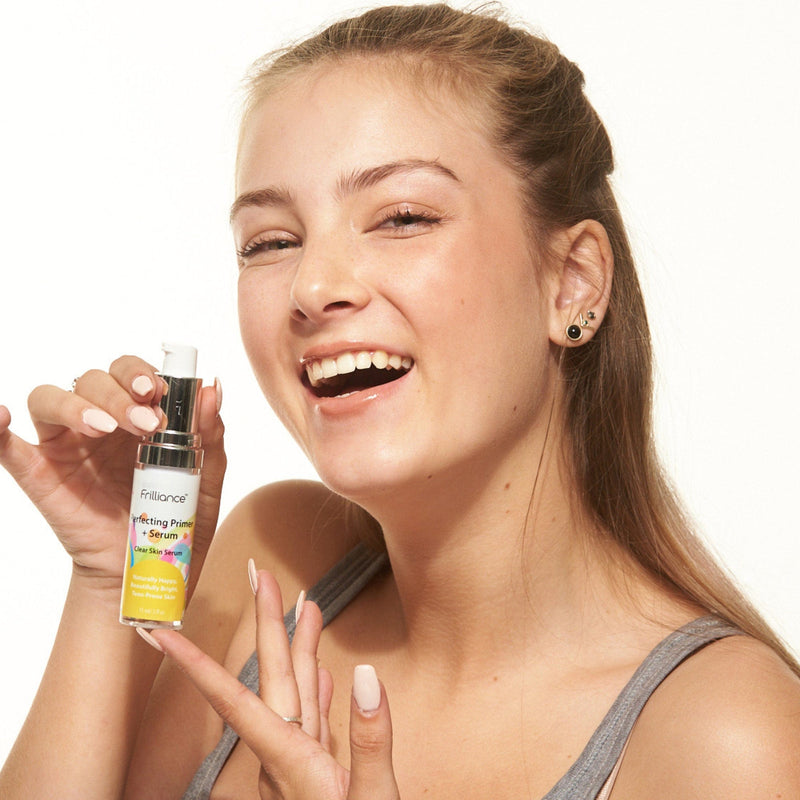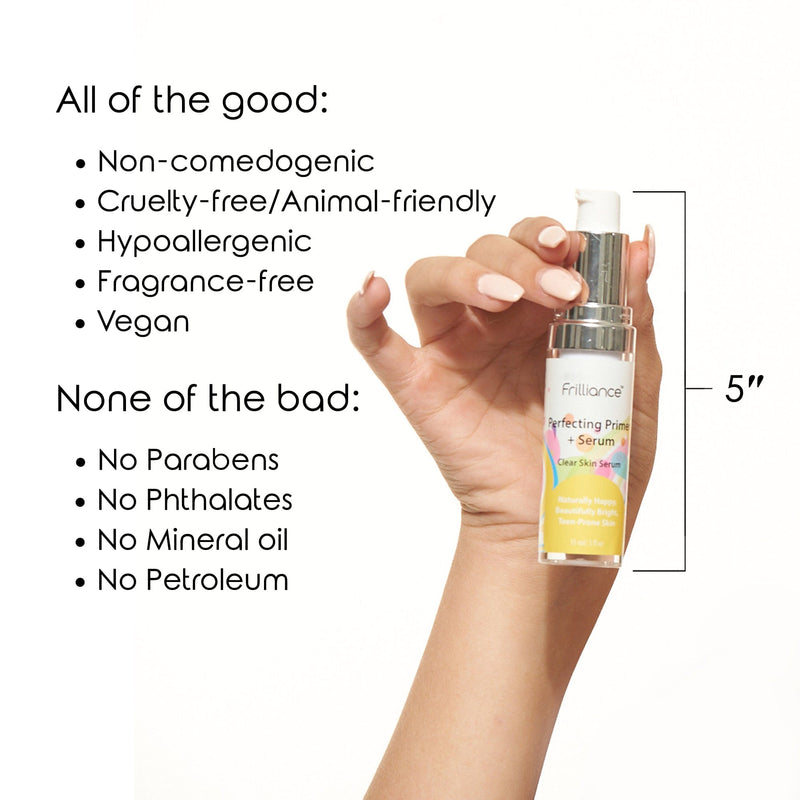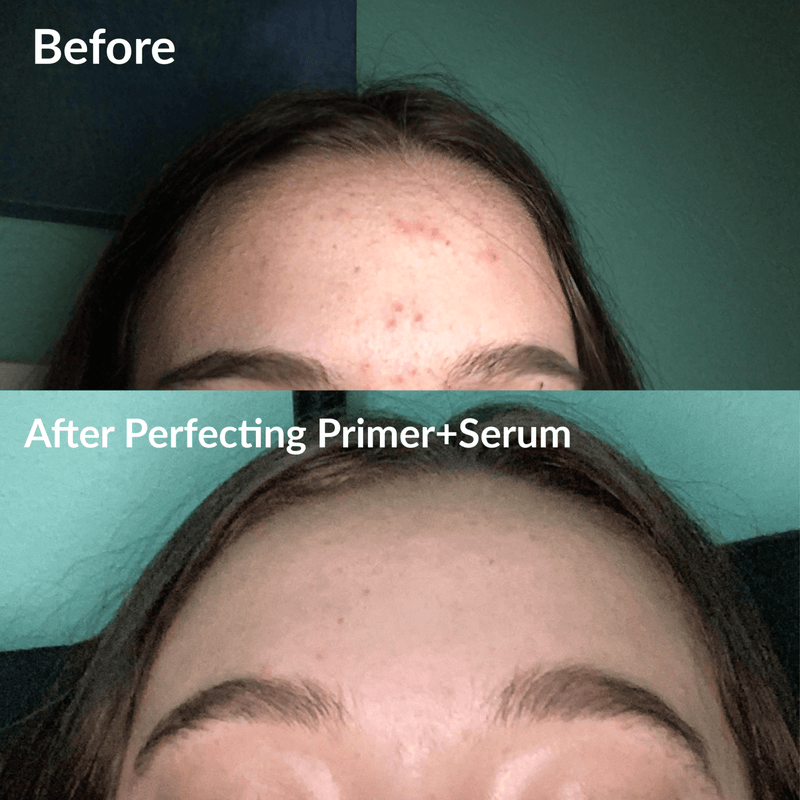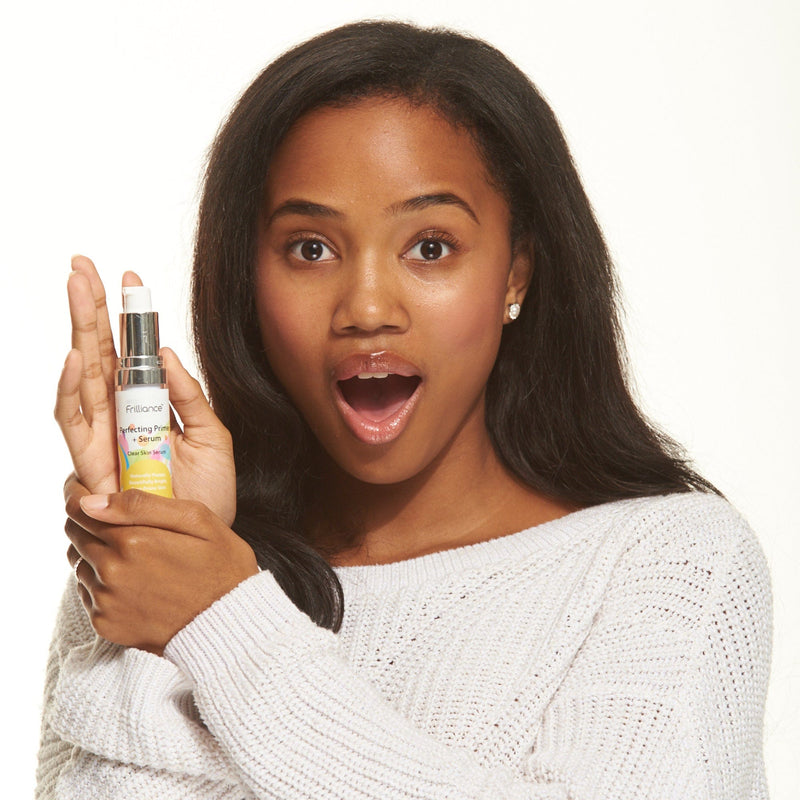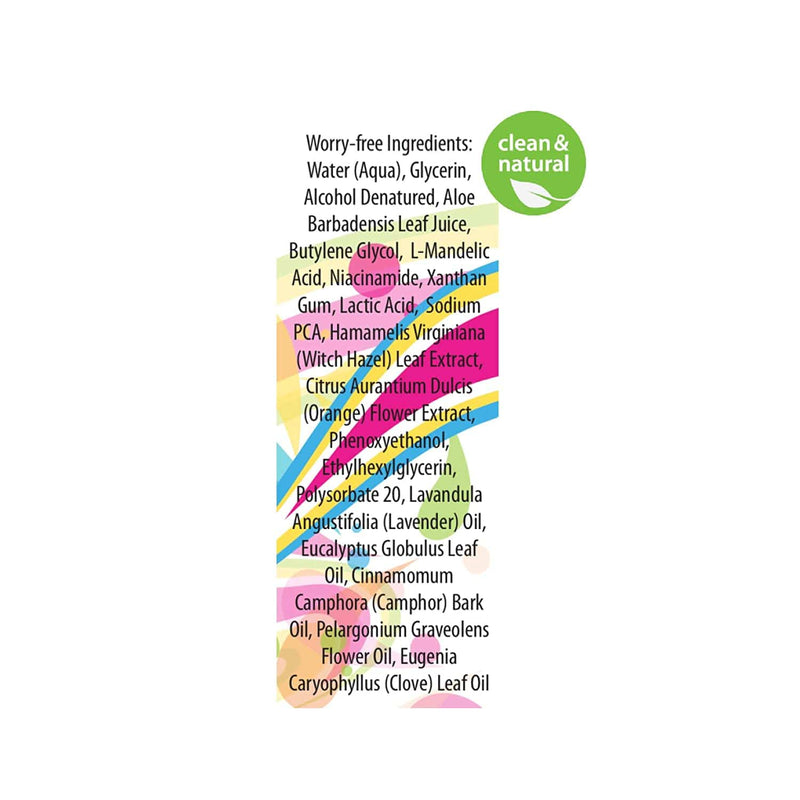 Perfecting Primer+Serum | Clear Skin Serum
Regular Price

$16.90

Save

$16.90

Regular Price

Unit Price

per
Frilliance Perfecting Primer+Serum does some of the hard work in caring for acne-prone skin. This silky primer serum combo includes powerful acne-fighters like mandelic acid plus hydrating, skin-soothing ingredients like aloe. An ideal formulation to help stop breakouts, use this non-comedogenic primer serum under your makeup or as a soothing night treatment for your skin. Adios, acne. Hello, glow.
Wash hands. Apply 1-2 pumps of primer serum on the back of your hand. One application is about the size of a nickel. Smooth gently over face with light, rubbing motion. For daytime use, let dry and apply makeup if you wish. As a night treatment, first, apply the Refreshing Facial Mist to lock in extra hydration and skin-soothing ingredients before applying as instructed above.
L-Mandelic Acid

Mandelic acid is a kinder, gentler alpha-hydroxy acid that is derived from bitter almonds. Though mandelic acid is powerful in accelerating the turnover of skin cells, it is much less irritating than many other alpha hydroxy acids.This leads to a brighter, smoother, more even complexion. Mandelic acid's antibacterial properties are extremely helpful in treating acne keeping bad things out of your pores. It also helps to regulate sebum production and in turn, decrease the occurrence of breakouts.

Lactic Acid

Lactic acid is an alpha hydroxy acid (AHA) and derived from foods. Lactic acid helps your skin shed dead skin cells because it operates as a non-friction type of exfoliant---the power of a good scrub without the scrubbing! A great choice for sensitive skin, lactic acid is gentle yet powerful and helps rejuvenate your skin and brighten your complexion. Lactic acid helps the appearance of large pores making them appear smaller.

Niacinamide

Niacinamide is a calming ingredient that gives numerous benefits to your beautiful skin. Not only is it an effective skin-repair agent, niacinamide works to hydrate and brighten your skin. The outer layer of your skin is strengthened by the addition of this vitamin B3 as it fuels cellular bonds. This gives you smoother, brighter skin that is both calmed and stable. Clinical trials show niacinamide helps lower sebum excretion (as in less oily skin!) and other studies have shown niacinamide reduces both acne lesions and acne severity.

Aloe Barbadensis Leaf Juice - Organic

Aloe barbadensis is simply another name for aloe vera. Rich and moisturizing, aloe also has two important hormones, auxin and gibberellins. These two hormones promote healing and help calm inflammation. Giberellin stimulates new cell growth which helps skin to heal quickly and naturally with added protection against scarring. Aloe vera also helps boost the water content in your skin and leaves it hydrated without making your skin feel yucky and greasy.

Citrus Aurantium Dulcis (Orange) Fruit Extract

Orange peel oil has a solid reputation based on its uplifting citrus aroma and high levels of the antioxidant vitamin C making it a natural choice as a skincare ingredient. It is also used in beauty products for its content of alpha-hydroxy acids (AHA's). AHA's can be used as water-binding agents in cosmetics, but are mostly used in modern cosmetics for their exfoliating and therapeutic properties which help with and minimize photodamaged skin.

Eucalyptus globulus (Eucalyptus) leaf oil

Used for centuries, eucalyptus leaf oil is a fighter first and foremost. It functions as an anti-inflammatory that calms your skin, an antiseptic to promote healing, and antibacterial to kill off germs, an antioxidant to shield your skin from environmental damage, an antiviral that inhibits viral attack, and an anti-fungal to prevent and treat fungal infection. On top of all that, eucalyptus leaf oil also works to protect your skin from UV rays.

Complete List of Worry-Free Ingredients: Water (Aqua), Glycerin, Alcohol Denatured, Aloe Barbadensis Leaf Juice, Butylene Glycol, L-Mandelic Acid, Niacinamide, Xanthan Gum, Lactic Acid, Sodium PCA, Hamamelis Virginiana (Witch Hazel) Leaf Extract, Citrus Aurantium Dulcis (Orange) Flower Extract, Phenoxyethanol, Ethylhexylglycerin, Polysorbate 20, Lavandula Angustifolia (Lavender) Oil, Eucalyptus Globulus Leaf Oil, Cinnamomum Camphora (Camphor) Bark Oil, Pelargonium Graveolens Flower Oil, Eugenia Caryophyllus (Clove) Leaf Oil
Clean. Cruelty-Free. Science-Backed.
At Frilliance, we are incredibly proud to be:
Non-comedogenic (won't clog pores)
Cruelty-free (we love animals!)
Hypoallergenic & dermatologist-tested (sensitive-skin friendly)
Paraben-free, phthalates-free, SLS-free, mineral oil-free, petroleum-free, fragrance-free, formaldehyde-free
Skincare designed and developed by a real teen
Ingredient transparent--every single ingredient we use in our products is listed and explained here.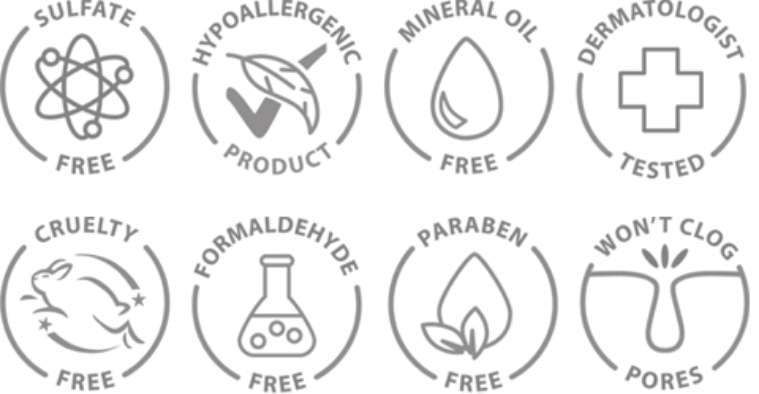 Your Reviews Are Making Us Blush!